I'm reaching the point where I am ready for winter to be over. Every year around the beginning of February I reach this point. I feel the days getting a little warmer (barely, but still a little warmer), and I start looking, searching really, for the little green shoots that come up proving that spring is indeed on the way.
I love LOVE spring flowers, especially crocus, they are the first flowers of spring, there can be snow on the ground and the happy bright crocus is peeking through the ground.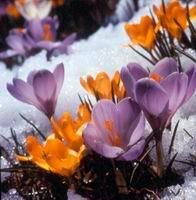 While I am glad for the snow and thankful for 4 distinct seasons, I am ready for winter to end, bring on spring! So, for my friends and neighbors who see me out seaching my flowerbeds for the next six weeks, know this is normal, and I am aware it will be another six weeks, but I just can't help myself!