Yeah!!! Hooray!!! Today was a good monday. Sushiboy went back to work for a half day (he hasn't been in to work for the last two weeks because he has been so sick), we finally got a settlement we could live with (it still was a tad low but we didn't want to drag this out for another 6 months over $500) and things are starting to get back on track. I thought I might post a few pictures of my poor Honda, here goes. . .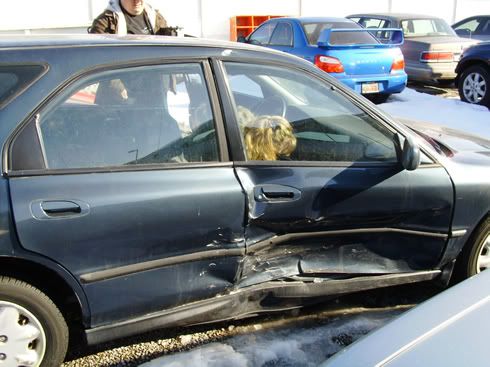 notice how the whole car frame is bent around the impact site, I think the guy who hit me was going faster than 20 mph. (that's how fast he said he was going)
The windshied cracked but didn't break due to the frame being bent around.
It makes me sad to see such a bad ending for such a great car but there is nothing I can do about it and now sushiboy and I have a minivan to replace the little honda. At least the kids have some space now. The person in the pictures is sushiboy's sister (aka bigsister) who was kind enough to take our nice MP3 playing radio out and put the old factory honda radio back in. She is a great help to our family, I have a wonderful sister and brother-in-law.