Of Busyness!!!! Well, I'm finally ready to post some pics and talk about our crazy month. Humm, lets start at the very beginning. This first pic just cracks me up, it's a pic of Tank, he was a little tired, check out the cheeks on that kid! I love that little round face so much!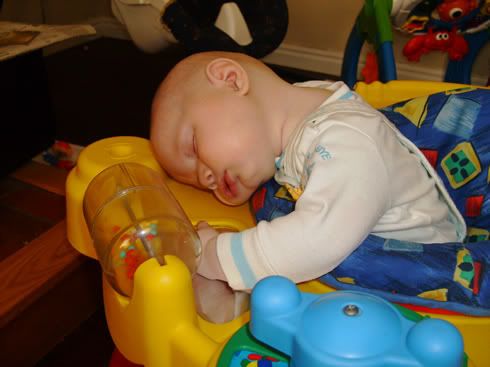 Next I think I'll just do a slideshow of the pictures of Capital Reef. We go down there every year and love it. It's so nice to get some warm sun on our faces after the long winter. We had a great time this year. It was nice, instead of having every minute planned we took things pretty easy. We got down there early on Thursday morning and set up the tent trailer and rode bikes around the campground. Before we left on Thursday when Cakes woke up her face was swollen and I figured she was just having an allergic reaction to her antibiotic so I immediately stopped the antibiotic and gave her some antihistimine. Little did I know this would affect our whole trip. Once we got down there and got set up we went down to the river, Cakes was still being whinny but I figured she would be alright. Cookie had a great time throwing leaves in the river and Tank discovered he LOVED the baby backpacker. Cakes started complaining about her joints hurting. We carried her back to camp and started getting ready for dinner. Grandma taught Cookie about olives on his fingers and he thought that was great! The next day my sister and brother in law got to camp and we went on an Easter egg hunt up Kohab Canyon. Although she was still puffy, Cakes was all over this. The kids had such a great time, however, by the time the egg hunt was over, so was cakes. She was crying and saying she hurt, her legs were starting to turn blue and she wasn't acting like she normally does. My fantastic Dad (Cake's Grandpa) carried Cakes all the way back to camp and my brother in law and Daddy gave Cakes a priesthood blessing of healing. We witnessed a miracle. I had been giving her antihistimine for the last two days and she was just getting worse. When we asked about where the nearest doctors office was we got told it would be a huge hassle. First the ranger had to check to see if she was really sick, then they had to call into the nearest town (an hour away) and call in a doctor to go to the offices. After the blessing Cakes fell asleep and within an hour or two was almost completely back to normal, other than being a little tired still. Saturday afternoon we headed home and got ready for Tank's baby blessing.
Tank had discovered on the ride home from Capital Reef that he really liked to eat yogurt so I thought it was probably time to start rice cereal. He wasn't so sure at the begining but by the end he was hooked.
The next day was Tanks baby blessing, we had friends and family over afterwards and because 7 of the 9 brothers and sisters and 8 of the 10 grandchildren were there we got some family pictures.
Here is an adorable picture of Tank in his blessing outfit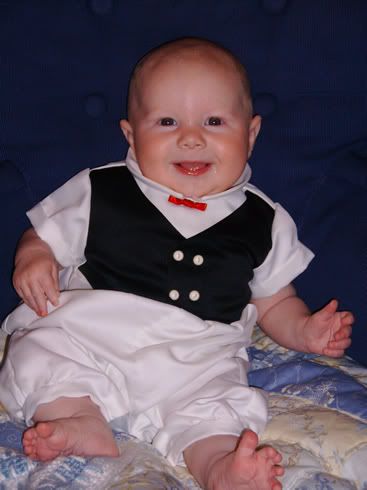 The next week, my younger sister got her Young Women in Excellence award, that is an award the Young Women in The Church of Jesus Christ of Latter Day Saints can earn. It takes at least 70 hours to complete it with part of that being a final project that should take at least 40 hours. So, it's somewhat equivalent to earning an Eagle Scout award, we're proud of my sister for working so hard to earn this great award! It was also my sister in law's baby shower that night but I don't have any pictures of that.
My sister and my parents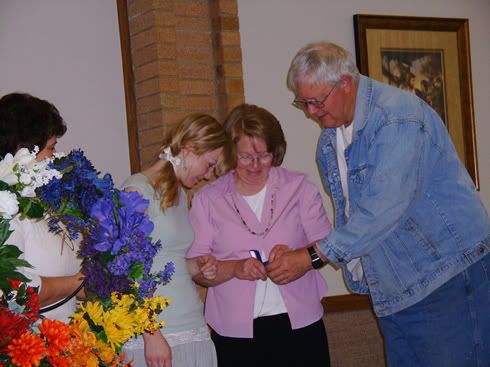 Tank trying to stand afterwards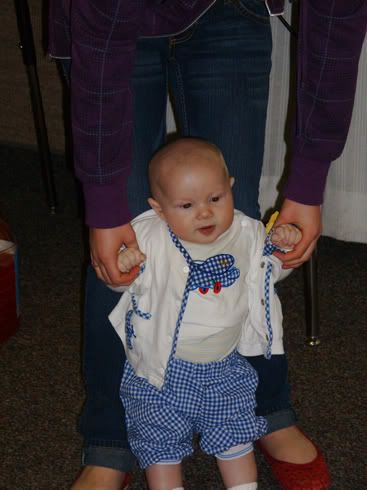 The last slideshow I have is just a fun one, Tank now no longer fits into the sink and so he gets to take baths in the tub. Cookie and Cakes always fight over who gets to take a bath with him. This time it was Cookie's turn. Cookie was particularly proud of the bubble mustaches and beards he was able to get for the pictures.
Whew! Now you know why I have been a diliquent blogger. To get you caught up it took 33 pictures! Well, enjoy, my life has been a very busy journey lately but I am so greatful that I am able to take care of my life and do the things that need to be done. Try to remember Sushiboy in your prayers, he is at the end of his rope and needs a little encouragement. He has one more final this week and can't wait to be done. Oh, and wish him a happy birthday, his birthday is wednesday the 29th and big sister's is thursday the 30th.