I thought I might post some pictures of the new front yard flowerbeds. I still can't believe my Mom and I moved a dumptruck load of topsoil to where we wanted it in the front yard. Unbelievable and while I'm pregnant, mabey I have inherited some of my mother's amazingness (she hiked a major hike here in Utah when she was seven months pregnant with my brother, crazy!). Unfortunately, I have had to take it easy once again for two or three days afterwards. Hopefully I'll be back up to speed tomorrow. The first picture here is what started the whole thing. The old flowerbed and grass were horrible, I couldn't even water because it would flood into our cold storage through the window. So, we put in a windowell extension, took out all the old flowers and stupid lavarock (I really, really, really hate all the lavarock around our yard, apparently, people around here LOVE lavarock, not me), and filled in the hole where the grass used to be. Then we extended the flowerbed out quite a bit and replanted the flowers. I do plan on planting grass seed here one of these days. I purposefully planted all the plants away from the house, the old owners had planted everything right next to the house and I couldn't water and it's just a bad idea to have plants right next to your foundation.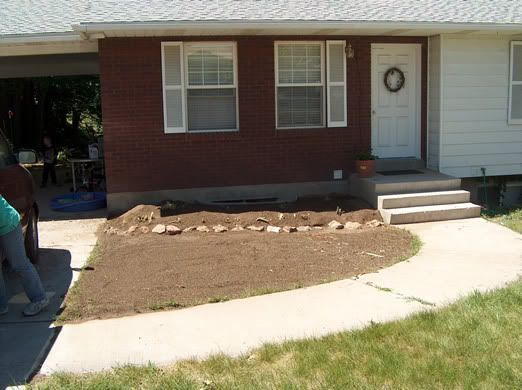 This next picture is where I connected two existing flowerbeds. There was a big space between the two and the pressurized irrigation was right there, it was such a pain to mow around the stupid pressurized irrigation. So, I just filled it in with a long flowerbed that wraps around the front to the side of the yard. It should be a lot easier to mow, you'll have to ask sushi if it is when he finally mows the lawn! I think it looks so much better, it looks a little bare right now but I have some daylilies and coral bells and iris' that will fill in nicely as well as some mums, anemomes, and other perrenials. In a year or two it should look really nice and filled in and I don't have to spend tons of money and time every year on annuals!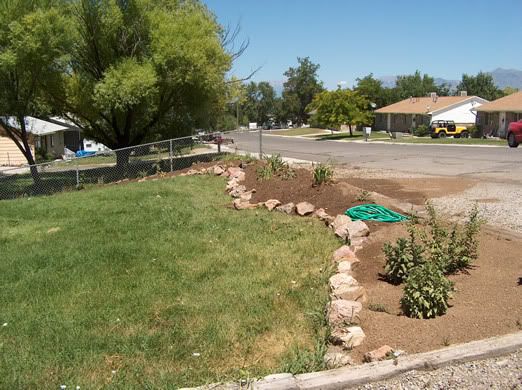 This last picture is just a shot from the front looking in to see it all together. I'm quite proud of myself, perhaps I can make this yard look great after all!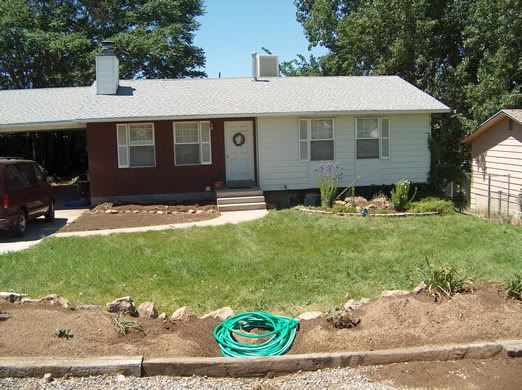 As a side note,sushi's grandmother is not doing so well, we may be going to a funeral sometime in the next week, I'm glad we spent as much time as we did with her. If it is the Lord's will she will pull through, if not she will finally be able to rest.